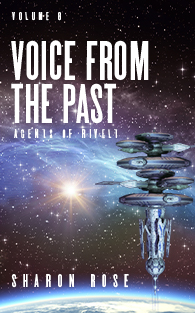 Voice from the Past
Tracy's haunting past interrupts a critical rescue. What can she and Vigard pull out of the disaster?
Cracks are forming in Rivelt's slave trafficking ring. To widen those chinks, Tracy and Vigard head out to rescue a dangerous slave who holds critical information. As they search, Tracy's past re-emerges—in the flesh. Tracy and Vigard are no strangers to complications, but the only way through this dilemma seems to be allying with a dishonest gambler. What happens when twisted loyalties are put to the ultimate test?
Voice from the Past is the eighth short story in the science fiction series Agents of Rivelt by Sharon Rose. If you like rich characters, twists, and questionable motives, this story is for you.
It's included in Agents of Rivelt - A Novel in Short Stories. It may also be individually purchased at the links below.
GET THE FIRST THREE AGENTS OF RIVELT STORIES FOR FREE!
More from The Agents of Rivelt