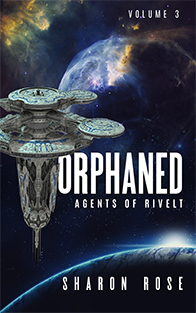 Orphaned
A choice between love and freedom.
As Tracy searches for leads in a Syndicate space station, she stumbles upon Adeline, a slave in hiding with no means to fully escape. Adeline's daughter has evaded slavery, but one glimpse of her marked face by a Syndicate informant will sentence her to death. Unable to contact Vigard, Tracy must choose between abandoning them or placing Vigard and his passengers in danger. Worse yet, the risks are much higher for attempting to free two slaves than one. How much can Tracy pull off?
Orphaned is the third short story in the science fiction series Agents of Rivelt by Sharon Rose. If you are intrigued by alien races, telepathy, danger, and tough decisions, this story is for you.
Sign up on the right for my newsletter to receive this story for free. It's also included in Agents of Rivelt - A Novel in Short Stories.
GET THE FIRST THREE AGENTS OF RIVELT STORIES FOR FREE!
More from The Agents of Rivelt