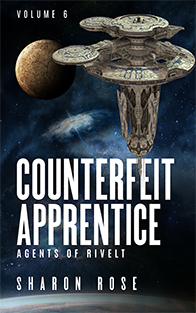 Counterfeit Apprentice
A ruthless counterfeiter. An enslaved thought-reader. Enforcers who kill the innocent with the guilty.
Tracy and Vigard discover a slave who is forced to counterfeit bank chips and read thoughts on a Syndicate space station. Either offense will get him burned to death. The true culprit keeps all evidence pointing to his slave. The Syndicate is closing in. Can Tracy and Vigard rescue the young man before Syndicate watchers execute the victim along with the criminal?
Counterfeit Apprentice is the sixth short story in the science fiction series Agents of Rivelt by Sharon Rose. If you like rich characters and dangerous schemes set against an alien background, this story is for you.
It's included in Agents of Rivelt - A Novel in Short Stories. It may also be individually purchased at the links below.
GET THE FIRST THREE AGENTS OF RIVELT STORIES FOR FREE!
More from The Agents of Rivelt