In this newsletter:
A little news
A sale
Free stories
A question
Summer has arrived in Minnesota! Does that sound like old news? Not so, to us northerners. As Kena might say, we've had a wee bit of rain this spring. Ducks were swimming in my back lawn!
At last, my gardens are making up for lost time. I can even write at my patio table…where twirling maple seeds land on the keyboard. Okay, that's a little annoying, but as long as they miss my coffee, all is well. Right now, I'm working on edits for Diverse Demands. I can't wait to finish it and let you read how Kena and a new friend navigate contradictory demands.
An unexpected sale:
Last month, I put my novels on sale for you. A few days ago, I found out Agents of Rivelt had been accepted for a promotion. That means it's on sale again for even less: $0.99. But hurry, this sale only runs through June 7, 2019.
Click the cover to see more details and purchasing options.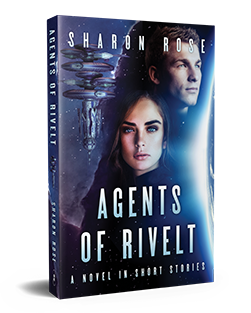 Free reads:
This month's offer is all science fiction. Thirty-five authors to choose from and a chance to win a $25 gift card. (Hey, I'd love to hear if one of my readers wins, so let me know if you're the lucky one.) This giveaway is through Book Cave so all the books are rated by their authors. That feature makes it easier to know what you're getting before you download.
A question for you:
What would you like to see in my newsletter? Is there anything you would like to see more…or to see less? I've thought of featuring books by other authors. Would that interest you? Please comment below.
Happy reading!
Sharon Rose