Sunshine. A light breeze. A good book and a cup of coffee on my patio. My personal slice of heaven is a welcome calm after the excitement of attending Realm Makers, my favorite writer's conference. I just love hanging out with my tribe.
The pleasures of home are even better since my son has returned to Minnesota after nine years in the Marines. He and his boys are staying with us for two weeks before moving into their own place. Okay, maybe my paradise is a tad noisy, but I wouldn't trade it for another. Now, if I can just finish editing…
News for Diverse Similarity
As I gear up for my next release, I have moved Diverse Similarity to Kindle Unlimited. For all of you KU subscribers, you can now read it for free. If you don't use KU, no worries. You can still buy it from Amazon.
My favorite books:
This month I'm highlighting the science fiction cyberpunk genre.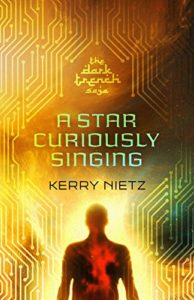 A Star Curiously Singing by Kerry Nietz is the first novel in the DarkTrench Saga trilogy.
I'm currently reading the third book of this trilogy. I'm not a binge reader. I only finish a series if something about the characters keeps me thinking of them, even months later. That is true with DarkTrench Saga.
Another plus is that each book is a complete story. I actually liked book 2 a little better than book 1, which says a lot, since middle books often drag. But mostly, I enjoy an intriguing "what if…?" This series delivers a unique, futuristic premise. Learn more here. (By the way, I finished reading book 3 after sending my newsletter. It's now my favorite.) 
Free books:
This is always a favorite section in my newsletter. No surprise. Free books are a great way to check out a new author. Aliens, AI, Adventure Fifty-nine titles to choose from. You're bound to find something interesting. (This offer ends Sept 16, 2019.)
My books:
Agents of Rivelt – A Novel in Short Stories is still available from all retailers.
See the details of my existing novels here.
Happy reading!
Sharon Rose