"Change is good," they said. I used to cringe every time I heard those words from upper management. Have you felt that way? At least for the changes I'm announcing today, I did the work and you get the benefits.

First change: I switched to a different email service. That means my newsletters may show up in an unexpected folder. You may want to mark my address as "safe sender," put it in your contact list, or whatever tells your email system that you want to see my notes. Why did I switch? The old one was sending duplicate emails to some of you. That should stop now, but if you ever get duplicates from me, please reply to the email and let me know.

Now for the fun change: I'm offering a brand new story to new subscribers. This one is a prequel novella to the series that I will launch around the first of the year. I know. Prequels usually come out later. I'll put it up for sale at the traditional time, but for a limited time, you get it for free.
A Castle Sealed
Castle in the Wilde – Prequel Novella
A mysterious castle. Fearsome beasts. But what is everyone hiding?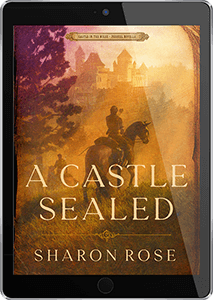 How about a few more free stories? This offer features dozens of different authors. Try clicking that door and see what adventures it leads to.

Until next time, happy reading!

Sharon Rose