Get the first three stories for free, along with my newsletter.
I promise not to flood your inbox or sell your email address. You can unsubscribe at any time.
What readers say about Agents of Rivelt stories:
"I get so into the plot I can't stop reading."
"The characters have such good chemistry with each other."
"The story raises mysteries, resolves them and twists, all in a very short space."
"They feel like novels, with tight plotting and real character arcs."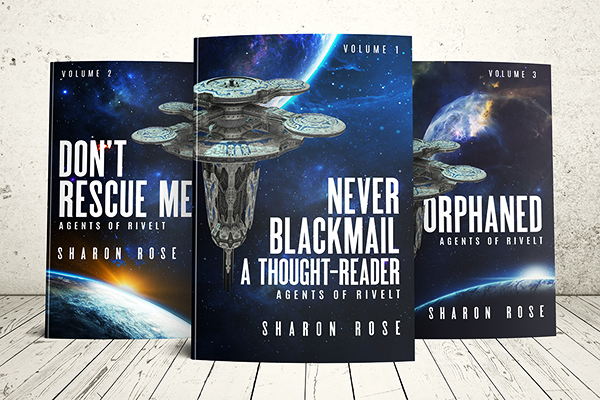 Agents of Rivelt
Enslaved mind readers. Dangerous space stations. Two daring rescuers.
A genetic alteration enables some Humans to read thought energy flowing from others. Social upheaval forced them to leave Earth and colonize the planet Rivelt. Now slave traders are abducting altered Humans from their haven world. They're sold in the most dangerous possible location: Syndicate-run space stations. Escape from their slave handlers can only end with execution by the Syndicate. Can a bounty hunter and a former slave cheat death and bring freedom?
This short story series gives quick doses of science fiction adventure. Each story is complete in itself, but they're more fun when read in order. If you like rich characters and clever schemes, set against a tapestry of alien culture, then you'll love Agents of Rivelt.