A couple highlights of the past month:
Realm Makers Conference
What a treat! For those of you who don't know, this is my once-a-year trip to be with a unique group of people where I actually feel that I'm with my own kind. In some ways, we are much the same—people of faith writing speculative fiction. That's a small niche compared to most writers' conferences. Yet, in spite of how similar we are, browsing the book tables or talking over dinner reveals the differences. So many approaches, opinions, and personalities shine through your art and conversation. And every person I had a chance to talk with was so welcoming. Your non-visual beauties shine with an internal light that makes me want to hug all of you.
Total Solar Eclipse
Here we have a rare family photo where everyone is looking in the same direction.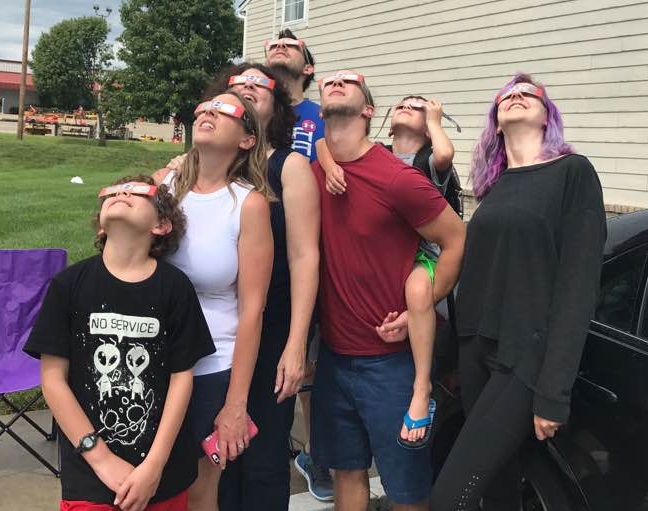 This is the part of my family who escaped work to meet in Missouri for our first-ever view of totality. Left to right: My oldest grandson, Elias (whose birthday was eclipse day—how cool is that?), daughter Raechel, me, son-in-law Jimmy, future son-in-law Joshua, grandson Jude (who likes climbing his future uncle), and daughter Laura.
There are so many things I could say about the eclipse that I just may have to write a blog article. But at this moment I'm enjoying how unifying the event was. It's a day to have spontaneous, delighted conversation with complete strangers (one of whom took the above photo for us). It's a second when totality begins and everyone utters gasps or exclamations of awe in unison. (Okay, that glowing blue-white corona just shouts power and beauty—I can't help but get excited.) Anyway, it was wonderful to hear people extolling something good with a spirit of comradery, rather than griping over everything horrible in the world.
Coming soon:
Short story number 2 in my Agents of Rivelt series is finished. As soon as its cover art is ready, I'll release it. (Subscribers get it free.) Here is a hint of what's coming.
Don't' Rescue Me
What risk is too great in pursuit of freedom?
Vigard returns to Rivelt with the sting of failure. He has located a slave, but her fears thwart his rescue plan. Tracy persuades him to take her along for a last-ditch rescue attempt—much to the dismay of her family. Can they pry an abducted Riveltian from a slave-handler, then sneak her off a space station without attracting the Syndicate's attention?
If you missed the first story, Never Blackmail a Thought-Reader, you can still get it free by clicking here:
If you like the story, please find it on Amazon and leave a review. It helps me and other readers far more than you may realize.
In the works:
Diverse Similarity: The good news: I met an award-winning designer at Realm Makers who agreed to create the cover art for my novel. The (sorta) bad news: he's booked up until the end of the year. I'm going to have to push my release date to January 2018—but it's worth the wait.
In the meantime, I'm working on more short stories and the next novel.
Future issues of my newsletter:
• Release of Don't Rescue Me which will be free to my newsletter subscribers.
• Whatever occurs to me.