Hello friends!
It seems I can't write a November newsletter without thinking of Thanksgiving. Not just the holiday, but the concept. It's kind of overwhelming me at the moment. No words come close to expressing how grateful I am for the chance to pursue my dream of writing. It would be a hollow dream without readers, without people like you. Thank you so much for helping me turn my dream into reality!
Okay. Now the news.
The clock keeps ticking toward the release of my first novel, and I have a new short story to announce. But first, I'd like to tell you about an opportunity.
I'm starting an advance reader team. Have you ever wondered how a brand-new book has reviews already posted online or printed on the cover? They come from advance readers. If you join my team, I'll give you an electronic copy of the book before it's released, and I'll provide links where you can leave an honest review. What do you get out of being an advance reader? I can't ethically offer you goodies, but you will receive a warm, fuzzy feeling for helping a grateful author.
Is this for everyone? Well, maybe. I'm looking for readers who are willing to post reviews online. I won't be offended if you pass up this opportunity. Yes, I will still love you, even if you don't share my taste in fiction or like to review books. If you want to join my advance reader team, comment on this post or use the contact link at the top of my web page. 
New Release:
My next short story released on November 17th.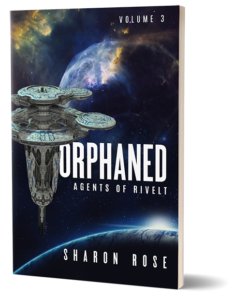 Orphaned
A choice between love and freedom.
As Tracy searches for leads in a Syndicate space station, she stumbles upon Adeline, a slave in hiding with no means to fully escape. Adeline's daughter has evaded slavery, but one glimpse of her marked face by a Syndicate informant will sentence her to death. Unable to contact Vigard, Tracy must choose between abandoning them or placing Vigard and his passengers in danger. Worse yet, the risks are much higher for attempting to free two slaves than one. How much can Tracy pull off?
Orphaned is the third short story in the science fiction series Agents of Rivelt. If you are intrigued by alien races, telepathy, danger, and tough decisions, this story is for you. You can order it here:
Amazon     Other Digital Retailers
In the works:
The next installment in the Agents of Rivelt series is coming around the first of January.
Trapped Rescuer
What happens when the rescuer becomes more trapped than the slave he is freeing?
Until next time, wishing you many reasons to feel thankful,
Sharon Rose