There is so much to learn! And that's what I've been doing since my last newsletter. I attended a writer's conference in Dallas. (ACFW, for those of you who follow conferences.) It's always such fun to be with writers. So refreshing! Which is a good thing, because conferences are like the proverbial "drinking from a firehose". I gleaned loads of information about publishing and marketing, and I'm discovering even more as I put all the learning into action.
I'm branching out to other retailers and finding so many nuances of timing, content, data, features, etc. that must all fit together just right. It reminds me of learning to tie my shoes. I once thought that so difficult, but now I can do it with my eyes closed—literally.  OK, I'll never attempt to publish with closed eyes (imagining all the typos makes me shudder), but at least I'm accomplishing more with my second short story than with my first. Despite the swarm of details, there is hope that I'll get this down. After all, frustrations are a natural part of the journey of learning. I'm sure you face frustrations, too. They are temporary. Keep forging ahead.
New Releases: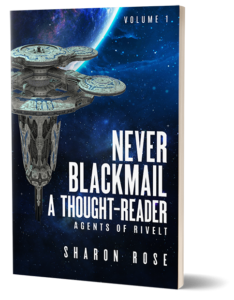 New cover
Never Blackmail a Thought-Reader got its official Agents of Rivelt series cover. It's now free on Amazon, Nook, iBooks, Kobo, and a few other retailers. It's even listed on Goodreads.com. The content is identical to what I give to anyone who signs up for my newsletter, but I just had to show you the new cover.
Here's the latest news: The next story in the series releases this Friday!
Don't Rescue Me
When safety and slavery are entwined, who will grasp freedom?
Vigard returns to Rivelt with the sting of failure. He has located a slave, but her fears thwart his rescue plan. Tracy persuades him to take her along for a last-ditch rescue attempt—much to the dismay of her family. Can they pry an abducted Riveltian from a slave-handler, then sneak her off a space station without attracting the Syndicate's attention?
It's free to newsletter subscribers.  Send my free story. 
In the works:
Next in the Agents of Rivelt series:
Orphaned
A choice between love and freedom.
Until next time, find something new to explore and enjoy. Drop me a line to tell me about it.
Sharon Rose