It's been a crazy month. Between traveling and filling my house with visiting family, it's no easy matter to keep life together. I guess that's what life is: chaos that we mold into joy…or whatever we choose. I know, not everyone is on board with creating wonderful experiences, but at least we get to choose our own responses.
My favorite books:
Last month, I asked what all of you would like to see in my newsletter. One suggestion was book recommendations. I will be focusing on science fiction and fantasy, and I'll aim for a cross-section of subgenres. They could be new releases or timeless gold, like this first one. When I was thinking about where to start, my favorite book series jumped to the front of the line.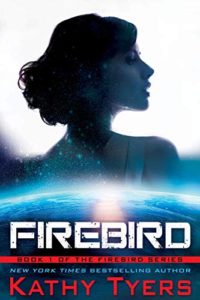 Firebird by Kathy Tyers is the first novel in a five-book science fiction series. If you're a fan of Star Wars books, you will recognize the author's name, but Kathy Tyers has also written several other novels. Few writers can create immersive and believable worlds to the extent this author does. The characters she creates are so well developed and relatable, they feel like real people.
Why is Firebird my favorite? I have loved science fiction my entire life, but I have one pet peeve with the genre. The worldviews tend to include rigid atheism or weird religions that are strangely sterile. All the exciting action plays out with no purpose. Not so, in the Firebird series, for it actually contains hope. The different cultures have varied religions, but one of them is relatable to those of us who embrace a Christian viewpoint. Don't get the idea, though, that this series is about religion. It has all the epic conflict, heroic deeds, and rich relationships you could ask for in great science fiction.
Free books:
Some of you also responded that you like freebies (who doesn't?), so I will keep putting offers in my newsletter. Free books are a great way to check out a new author. If you post a review on the free books you read, it's as good as paying for them. Here is the latest: Universes Collide  Forty-some stories to choose from. This offer is only available during July 2019.

My books:
I'm editing Diverse Demands in between all the travel and visiting. I'm hoping to have a sneak peek at the cover for you next month.
See the details of my existing novels here.
Happy reading!
Sharon Rose