Golden leaves float down outside my window. Trees vibrant with new life only six months ago are now shedding their outward beauty to prepare for the next phase of life. A phase that looks stagnant on the surface–but is very much alive. Nature gives us many simple reminders like this one. Don't rely only on outward appearance to judge effectiveness. Welcome the times of stillness so creativity can keep flourishing.
Speaking of times that are not what they seem, I just read a great book that touches on that theme from a different angle. So let's head right into this month's recommendation.
Books I've enjoyed: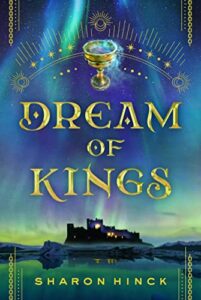 Dream of Kings
Author Sharon Hinck has won Christy and Carol awards for previous novels. Her newest book, Dream of Kings, has just released. This stand-alone fantasy novel is inspired by the ancient story of Joseph.
Jolan possesses the gift of dream telling, but that does not make her life easy. Nor does the favor of her own king. Palace intrigue and betrayal lead to heartbreaking kidnap, and slavery in a foreign kingdom looms before her. Yet there is more to Jolan's new life than she ever imagined.
What I enjoyed: The fantasy world is vibrant, and the characters are even richer than their setting. There were many things to love in this story as Jolan figures out who to trust and what trust really means in difficult times. My favorite part was discovering the deeper, hidden aspects of the characters as their story unfolds.
Discover it for yourself here: Dream of Kings
Happy reading!