It's here!
Today is the official release of A Castle Awakened.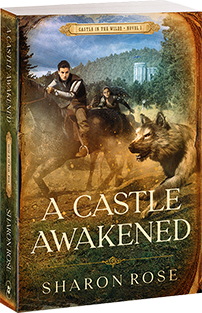 A foreign usurper. A lady who longs for freedom. Vicious beasts who want to rip them all to shreds. Who wins?
Never one to shy from a challenge, Lord Tristan Petram took possession of a forsaken castle. His search uncovered no hint of who built it or why they abandoned such a gem. What treachery would strike the founding family from history? Still, it seems a small matter, since the generations have passed. If he and his followers can forge a life here—and hold out against ravenous vixicats—the castle and this land will be theirs. As for the nearest kingdom, they never venture beyond their border or the mysterious forest of tower trees. Except…
Beth dons a disguise and takes a forbidden ride in Tower Woods—a last fling before she bows to the dictates of her noble birth. Her fun adventure turns into a nightmare of kidnap and rescue—of sorts. Now she's trapped in a nameless castle held by a foreign usurper who calls himself Lord Petram. Who could he be, and what will he do with her if he finds out who she really is?
Thus, Lord Petram finds himself the unwilling guardian of an injured lady who won't give her full name. A crime he didn't commit may bring retribution from an unknown kingdom. Do they have a claim to this castle that he now calls home? If he survives the vixicats, will an army slaughter him and his followers?
A Castle Awakened is the first novel in the Castle in the Wilde trilogy. If you like fantasy with mystery, intrigue, and romance, come and explore this secondary world with medieval undertones and the turmoil of clashing cultures.
It's available in print or ebook, including Kindle Unlimited. You can buy it here:
Amazon.com
Other Amazon markets
You can also request the printed book at your local bookstore or library. Ask for:
A Castle Awakened, by Sharon Rose, ISBN: 978-1-948160-21-6
I hope you enjoy it! I would love to hear what you think of this novel.
Wishing you all the joy of this hopeful season,
Sharon Rose