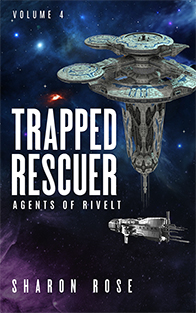 Trapped Rescuer
No way out. Now what?
Vigard and Tracy check the off-limits interior of a space station for a slave in hiding. Tracy is spotted by a Syndicate watcher and must somehow become invisible. Vigard is trapped in the space station's core with no way to break through the rank of searchers closing in on him. What happens when the rescuer becomes more trapped than the slave he is freeing?
Trapped Rescuer is the fourth short story in the science fiction series Agents of Rivelt by Sharon Rose. If you are intrigued by telepathy, danger, ingenuity and action, this story is for you.
It's included in Agents of Rivelt - A Novel in Short Stories. It may also be individually purchased at the links below.
GET THE FIRST THREE AGENTS OF RIVELT STORIES FOR FREE!
More from The Agents of Rivelt