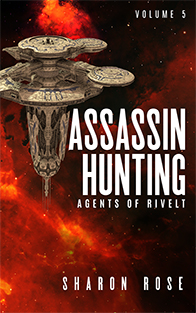 Assassin Hunting
A notorious assassin vs. a thought-reading bounty hunter. But is there a traitor in the mix?
Much to Tracy's dismay, Vigard accepts a bounty-hunting commission to execute an assassin in the Syndicate's lair. His low chances of survival are offset by covert information and his ability to read the assassin's thoughts. After they dock at the space station, his advantages fail, turning Vigard from hunter to prey. Can he survive long enough to take out a killer?
Assassin Hunting is the fifth short story in the science fiction series Agents of Rivelt by Sharon Rose. If you like rich characters, shocking revelations, and plenty of suspense, this story is for you.
It's included in Agents of Rivelt - A Novel in Short Stories. It may also be individually purchased at the links below.
GET THE FIRST THREE AGENTS OF RIVELT STORIES FOR FREE!
More from The Agents of Rivelt